Submitted by
dougvann
on Fri, 2014-08-29 11:54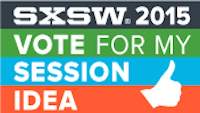 Vote for my session:
Web Content Publishing with Drupal Eight
[You must be signed in to vote, registration is free]
Mark Your Calendar: The 2015 Dates for SXSW Interactive are March 13-17 in Austin TX, the same place we just had Drupalcon 2014.
Last year I was invited by the SxSw organizers to deliver a 2.5hr Advanced Drupal Workshop. This year I encouraged many ppl to submit sessions and quite a few did. Now it's time to vote! For 2015 there are TEN submissions which either include Drupal or are entirely about Drupal.
In order to vote, you must create an account on the Panel Picker Website:
http://panelpicker.sxsw.com/
Voting is free, even if you're not sure wether or not you will make it to Austin for SxSw Interactive.
Here's a list of SxSw Interactive submitted sessions that are Drupal related, some more than others.
The Drupal 8 Console Scaffolding Module Generator Solo
Web Content Publishing with Drupal Eight Workshop
Large Drupal Site Builds Workshop
Drupal 8 Modules for PHP Devs: Now with Symfony! Workshop
Introduction to Drupal 8 Theming with Twig Workshop
Winning Lifecycle Technology Adoption Strategies Solo
There is a CMS for everything... but content. Solo
Managing Communities: Tales from Open Source Panel
Interconnected: The Future of the Experience Web Solo
Content Personalization for Web Teams of All Sizes -
See all sessions at: http://panelpicker.sxsw.com/vote#sthash.O5Ix4fBG.dpuf
Search for the word "DRUPAL" and you'll see links to the 10 sessions listed above.