Submitted by
dougvann
on Fri, 2012-03-30 11:42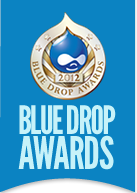 The nomination process is over and it is now TIME TO VOTE!
The field consists of 218 sites across 8 categories, all just waiting for your votes! Please join us in the FIRST EVER community driven awards program FOR Drupal sites BY Drupal users!
You can vote once per category and I have to tell you, it's not going to be easy making your final decision.
THANK YOU to the many people who visited us at our booth at DrupalCon. Special thanks to the many who used my Mac to register their sites right there on the spot! People really got energized as they began to understand what we're doing!
A NOTE ABOUT THE VOTING PROCESS:
When you register to vote for the Blue Drop Awards your account will be manually verified before voting privileges are active. Once you have passed the manual verification process, you will receive an email stating that you can now vote.