Submitted by
dougvann
on Sat, 2012-03-31 12:03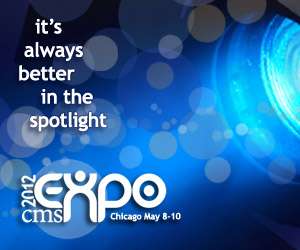 This year you'll catch me hanging out, for my 4th consecutive year, at the 6th annual CMS Expo Learning & Business Conference ~ May 8-10 2012. This time I'm not speaking... I'm listening!
Even if CMSX2012 wasn't 3.5 hrs drive away I would still make it a point to get there. I know of no other place where I can hang out with users, founders, and other steller representatives from Joomla, ModX, DotNetNuke, Alfresco, and of course my beloved Drupal. Yah, I probably missed a couple CMSs in there, but WordPress is actually not having an official presence for the 2nd year in a row. See the FULL LIST HERE. Seriously... People come out of the wood works to get to this event. Projects that I know so little about are taking the stage and showing off their wares and reminding me that while Drupal usage continues to expand in oh-so-many markets, the other platforms aren't standing still. They are innovating and marketing and doing rather well.
I love all my Drupal events, big and small, but the CMSX2012 is a unique and wondrous world where you're never quite sure who or what you're going to run into next. You can enjoy a session about corporate blogging or effective utilization of social media for business promotion then next find yourself watching a panel discussion on how 7 different CMS platforms are carving out their niche and share of the marketplace.
Expected Highlights of this years CMSX: [see the FULL LIST of sessions]
If you're going to CMSX2012 be sure to catch me in the halls and say HELLO!
:-)