Submitted by
dougvann
on Fri, 2010-09-10 08:22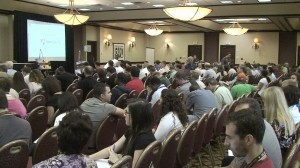 Well, it happened again. For two days members of the popular Open Source platforms Drupal, Joomla, and WordPress got together to treat attendees to a marathon of training sessions. I would be remiss not to mention that there was also a small contingency of .net developers as well. Open Camp is the natural evolution from last year's successful WordCamp event which served only the Wordpress community. When the decision was made to have Dallas DrupalCamp join it was only natural to bring in the Joomla folks as well. Dallas and surrounding areas are rife with active shops and individuals who are passionate about their OpenSource platform and eager to connect with one another. This atmosphere served OpenCamp well. I thoroughly enjoyed spending quality time with familiar friends as well as people who approach the web development process so differently from the methods I use.
The venue, Crowne Plaza in Addison TX, proved to be a very worthy host indeed. How do I begin to list the many things that went right about this event. We had all of our sessions on one floor, The main room was very sufficient for the 700+ attendees. The hotel staff were superb. The suites that were used for Speaker Hospitality and the late night, post-party hangout was a real asset. Excellent food, quality guest-services, and spacious rooms has me hoping that future events are held right where we were this time!
A few words about the incredible volunteer staff must be stated. I was in no way involved in the organization of this event so I don't know how many people it took or what their names are. What I do know is that I was never too far away from some one with a big VOLUNTEER on their name badge. We had some one to introduce speakers, a couple people in the Speaker Hospitality suite serving sodas and water, restocking snacks, and keeping the place clean. Every session was video recorded using high quality gear operated by, you guessed it, volunteers. In the main room we had a live stream, multiple cameras, A/V operators, and other technical support individuals. I had some one to pick me up and return me to the airport. You get it. There were many hands making lite work.
Open Camp drew in a large crowd from Dallas and Texas in general. As John Pozadzides opened up the welcoming session it seemed to me that he was talking to the locals. At one point, early on, he stopped himself and asked, Who all's from Dallas, FortWorth area? Maybe half the room raised their hands. He was shocked and repeated the question spreading out the radius until he finally identified some Canadians and a couple from the Netherlands! In all it was clear that hundreds of people had travelled from various other states scattered across the country, and even further, to get to OpenCamp.
The Drupal offerings at OpenCamp were quality. I really enjoyed Jay Batson, founder of Acquia, and his presentation which amounted to a State of Drupal address. Myself and the other attendees enjoyed hearing about the revised analysis of Acquia's crawling of the Alexa.com top listed sites. We discovered that while our market share is below that of Joomla and Wordpress, our sites tend to rank higher among the most visited sites. I'm really hoping the videos of the sessions get posted soon so I can post some links and share them with you.
This was my 9th camp this year and that doesn't even count the http://CMSexpo.net, http://webcontent2010.com, http://selinuxfest.org, and some other smaller events. I've enjoyed the opportunities to share Drupal with divers audiences from coast to coast. I'm also extremely enjoying the education I'm getting on how each event is organized and ran. I'm helping to organize DrupalCamp Indianapolis for Oct 23rd and you can bet that I'm borrowing from the success stories of OpenCamp and many other events.