Submitted by
dougvann
on Thu, 2010-07-08 18:42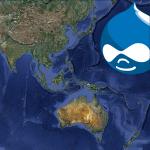 In the month of June Duo Consulting sent me out for 6 days of speaking at 5 events across 4 states!
The month kicked off with the Web Content Conference which is chronicled in a
previous blog
.
From there I went to the
SouthEast LinuxFest
where I had the privilege to address a good sized crowd of Linux lovers. This was an opportunity for me to do a whole new topic, "How Drupal is Expanding the Role of OpenSource in Government, Private Industry and Beyond." The presentation started off with a brief boasting about how the community and the software has grown exponentially in the last few years. 600% growth in DrupalCon attendance from 2008 to 2010 and a 35% growth in contributed modules (
defined
) from 2009 to 2010 were among the impressive numbers I demonstrated.
I then spent some time showing off the Drupal-based
WhiteHouse.gov
site and its many interactive features. I explained how these features were in keeping with the recent Open Government Initiative (
defined
). After showing off more government, entertainment, and other sites I closed with some Q & A which showed that the room's interest level in Drupal was high.
The following day was a Drupal Camp using the same facilities as the LinuxFest. This was an awesome opportunity for the LinuxFest attendees to sit in front of Drupal Ninjas and learn from the pros. I polled the audiences a few times and it was clear that many of the attendees were at their first-ever Drupal event. We attracted people from SC, NC, and Georgia, and beyond. One thing I have certainly noticed is that Linux users love Drupal, but the sites they build are rather bland and often void of any of the cool functionality that Drupal affords. Hopefully the DrupalCamp has sparked some creativity!
The following week I landed at our nation's capital to help organize the first [hopefully, annual] Drupal LibraryCamp. We chose the DC area because the
American Library Association Annual Conference
was being held there the following day. We had 16+ people join us in the Arlington Central Library as we enjoyed presentations from experts in the field of how Drupal is serving libraries across the country. After lunch Cary Gordon and I took the group through a crash course on Drupal as a community and a Drupal primer. What I really enjoyed most about the event was seeing the people connect. I'm not in any way associated with the Library world of Drupal, but I did get to see these dedicated individuals sharing their stories and growing their skills and understanding. Much appreciation was shared for Duo Consulting who sponsored my involvement in organizing and attending the event.
Two time zones away to the West,
DrupalCamp Colorado
was calling me. Oddly enough, this camp was the same weekend as the
Chicago DrupalCamp
. Since other Duo folks were attending the Chicago event, Duo elected to dispatch me to the mountains! Luscious scenery aside, DrupalCamp Colorado was a win on many levels. I gave my usual Advanced CCK+VIEWS session where I was honored to have over 33% of the camp attendees join me! I had lower expectations for my second day session. I wasn't sure how many would show up for "Getting Street Creds / How to be an active Drupal Citizen!" But sure enough, I had 30ish people listening to me rant about how to be a Drupal Zealot.
I broke down the Drupal Community Involvement model into three alliterations as I encouraged the group to be Visible, Valuable and Volunteer. Some took my Twitter advice before I had even finished. They started tweeting about being at the camp and listening to my session! Many came up afterwards very thankful that they now knew that they could be valuable members of the Drupal Community. Being the first time I'd given this session, I was way stoked at the results! I look forward to giving this presentation in Dallas in August for the hybrid OpenCamp and DrupalCamp Dallas.